No Slide Found In Slider.
The evolve C combines a high specification with efficiency and comfort.
We've taken everything we have ever learned about design, performance and servicing and combined all that knowledge into one superior, cutting-edge boiler range. Our feature rich, state-of-the-art evolve C boilers will enhance the lives of homeowners and engineers alike by providing warmth, comfort, efficiency and long-term performance, coupled with ease of installation. It all adds up to our best boiler range to date.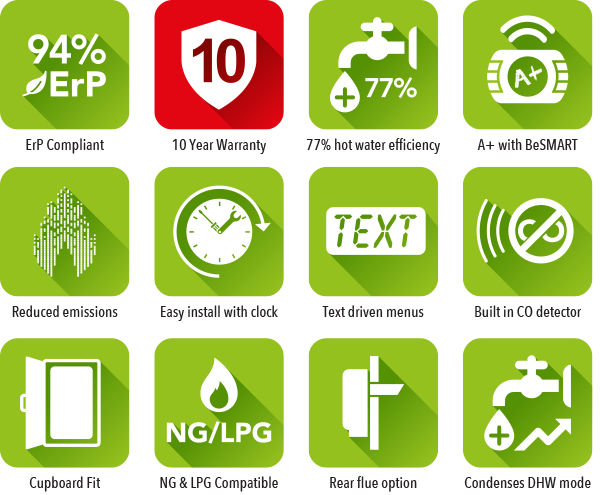 Fully compliant with the Energy-related Products Directive – 94% space heating. efficiency. Further efficiency can be achieved when installed with a weather compensation sensor or OpenTherm control
A+ space heating efficiency with BeSMART internet connected thermostat
10 year warranty as standard
Five output options – 24 to 42kW
High hot water flow rates up to 17.2 l/min
Natural gas or LPG out of the box
Compact dimensions enable the boiler to be sited almost anywhere in the home, including within a kitchen cupboard (24C & 28C models)
Features an excess carbon monoxide monitor. In the unlikely event of excess CO being detected the evolve will shut down and not run until the issue has been resolved
Liquid crystal display user interface with full text menu system, enabling both the installer and end user to quickly navigate through evolve's parameters and settings
evolve S system boiler also available