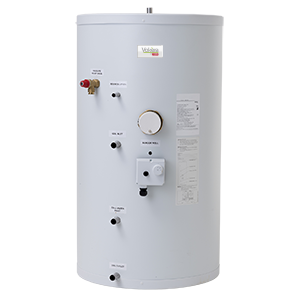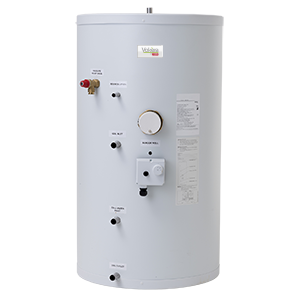 Twin coil cylinder compatible with solar thermal
The AquaFlow Twin coil unvented cylinder is compatible with the Vokèra evolve S, Mynute VHE and Vision S boiler ranges to store domestic hot water. Also, the twin coil unvented cylinder is ideal for use with solar thermal heating systems and is compatible with Vokèra's Zenith range. AquaFlow Twin comes in three capacities: 200 litres, 250 litres and 300 litres.

ErP Class C (200 & 250) Class D (300)
The AquaFlow Twin can be installed and later connected to a Solar thermal system to help spread the cost of a Solar installation
No cold water feed tanks required which means a dry loft space
Inner tanks is guaranteed for 25 years (2 years on ancillary components)
Factory fitted with one immersion heater
Further Information
The AquaFlow Twin houses two coils: the top coil is usually connected to your boiler, the bottom coil can them be connected to a Solar thermal system. If you are upgrading your heating system and water cylinder, it may make economical sense to have an AquaFlow Twin coil cylinder that can be connected to Solar thermal system at the same time or at a later date.