Become a Vokèra Accredited Installer
If you are Gas Safe registered and a member of Vokèra Affinity, you could be eligible to become a Vokèra Accredited Installer, a status that not only provides increased assurance of professionalism for your customers, but also comes with exclusive benefits beyond even those of Affinity.
Marketing support and exclusive benefits
Accredited Installer logo to promote your status on your website or business stationery
Accredited Installer van livery to distinguish you from your competitors
Complimentary branded polo shirt and soft-shell jacket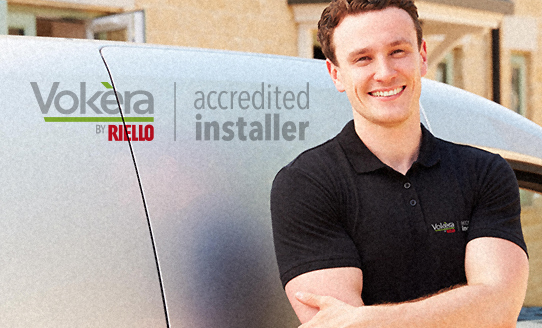 Complimentary branded site companion folder and beanie hat
Priority customer support
Bonus Affinity points for multiple installation

A full range of gas boilers, that provide high levels of efficiency and comfort.

A range of air source heat pumps for low carbon space heating and domestic hot water.

Complementary controls that can enhance comfort levels and increase efficiency.

Gas fired instantaneous multipoint water heaters for natural gas and LPG installations.

Solar thermal panels for renewable domestic hot water.

High pressure stored hot water cylinders that require a system or heat only boiler.
By Neil Saunders, sales & marketing director at Vokèra by Riello, Global Comfort Solutions Europe, Carrier. To support the growth of the heat pump market, the government has set out an ambitious target for the installation of circa 600,000 heat pumps per year in the UK by 2028. It's a mammoth task, particularly as large swathes of the current workforce will need to be upskilled to ensure they are qualified to carry out the work, so should we be doing more to make training easier for busy heating engineers and support the recruitment of new people entering the sector? In terms of the present, upskilling the current workforce to upgrade and improve heating system efficiency in homes and businesses will create rare, yet exciting, opportunities for engineers. As many customers will testify, finding a specialist to assess or repair a heating system – particularly during winter months – is often a frustrating, time-consuming process. Therefore, it's understandable that asking a heating professional to set aside time from an incredibly heavy work schedule to receive product training could be seen as a tall order. Manufacturers should attempt to display a degree of flexibility in their training. Although there is no substitute for in-person, 'hands-on' training, it is not always the most practical method for those in full-time employment. Innovative training At Vokèra, we have created a hybrid training programme including both virtual webinar sessions and direct, 'hands-on' learning. This proved far more convenient for full-time installers, with the live online sessions held late afternoon and early evening. The programme will tutor installers on the latest Vokèra and Riello product innovations,  as well as cover a range of topics including compliance with regulation changes, considerations when installing heat pumps, hybrid integration, etc. Workshops will also be available for those who wish to take a deeper look into our products. We believe manufacturers have a significant role in helping train the installers of the future. This is paramount to delivering the low carbon heating solutions the UK needs to create a less-polluted, more energy-efficient environment. Second career seekers   The UK government's support of the growing heat pump market is important to achieving its net zero ambition. Therefore, the search for skilled installers may need to include those pursuing heating engineering as a second career choice. An equal amount of focus could also be given to increase the number of women entering the trade. In both instances, the sector might be overlooking a valuable recruitment resource at a time when a greater range of expertise to call upon is essential. Job security is another benefit of retraining as a heating engineer. Previously, we've partnered with colleges and training centres, providing products and guidance for students on entry-level courses. These programmes were aimed at people who had recently achieved their NVQ Level 3 qualification, required to practice as a 'Gas Safe' heating engineer. Whilst these courses are vital to the development of apprentices, there is a growing need to create programmes aimed at more mature trainees, creating room for future opportunities. The type of person who might be interested in a mid-career shift to heating system installation and repair might not necessarily be an industry newcomer. Someone with an engineering background and a particular interest in decarbonisation would certainly find heating an exciting new challenge due to its huge emissions impact. Such a candidate might feel they could make a difference in heating's carbon output, particularly with the introduction of renewables, such as heat pumps, to the market. Furthermore, IT professionals might also find interest in the heating field, as their technical background would be beneficial when using services such as  connected thermostats and smart controls. From my years in the industry, I've found heating engineers to be very passionate about their trade. They enjoy the challenge of creating the best heating system for their client, while also considering cost-effectiveness and optimum efficiency. In my opinion, the desire to learn a new and valuable skill that will help secure our future sustainability is requisite for the role. If you're one of those people, I think I can speak on behalf of many heating system manufacturers in saying, 'Your industry needs you.' Powering up Britain A significant transition of UK households from fossil fuel heating to smarter, environmentally-economical appliances will take years to complete. However, attitudes to the global adoption of renewable technology are changing fast. This is being fuelled in-part by high-level initiatives such as the UK government's 'Powering Up Britain' proposal. Described as a way to net zero, the document outlines how renewable investment will help 'diversify, decarbonise and domesticate' the country's energy production. The proposal also highlights the government's Heat Pump Investment Accelerator plan, which aims to accelerate heat pump manufacturing in the UK. According to the report on behalf of the Secretary of State for Energy Security and Net Zero, the systems' British-made aspect, along with an extension of the government's three-year extension of its Boiler Upgrade Scheme, will rebalance electricity and gas costs for compatible boilers. For those with an entrepreneurial spirit, the platform is in place to secure and build a career that's enriching in multiple ways. Hence, there is no time like the present to upgrade your heating engineering skills or for those thinking of joining the sector, making that call that could benefit the rest of your life.
[...]
Read more...
LONDON COLNEY, England, July 4th, 2022 – Vokèra by Riello has unveiled the Vibe MAX, a brand-new boiler platform that combines value-for-money with high-end functionality. Available in a choice of combi and system models, the compact Vibe MAX is designed to be 20% hydrogen-blend ready and is packed with all-new features, including built-in Modbus connector, revised 'universal pipework' layout, and a primary heat exchanger in corrosion-resistant stainless steel. Vokèra, through its parent company Riello, is part of Carrier Global Corporation (NYSE:CARR), the leading global provider of healthy, safe, sustainable and intelligent building and cold chain solutions. The Vibe MAX takes the entry-level residential boiler to new heights of efficiency, functionality and reliability. The stainless-steel heat exchanger ensures optimum strength and durability, potentially increasing the life of the appliance and resulting in less downtime due to maintenance. This latest addition to Vokèra's range also utilises advanced electronics, including a modern human-machine interface (HMI) and digital touchpad interface to assist operation, installation and servicing. Vibe MAX also incorporates a Bluetooth clock module that allows the end user to easily program the 'heating' ON/OFF schedule via their smart phone using our app. The 26kW and 30kW Vibe MAX models both offer impressive 93% seasonal space heating efficiency and improved domestic hot water (DHW) performance. The compact Vibe MAX measures just 700 x 400 x 275mm, ensuring ease of handling and siting in all types of residential property, even where space is at a premium. Hydrogen-ready boilers are considered key to facilitating the conversion of existing gas distribution networks from natural gas to low-carbon hydrogen. As a 20% hydrogen-blend ready boiler, Vibe MAX is the ideal choice for homeowners looking for an efficient heating solution that can burn a methane/hydrogen blend as and when their local network makes the switch. Finally, as part of its advanced design Vibe MAX has the potential to become part of the IoT in today's smart homes using Wi-Fi connectivity. This option will enable homeowners to program and control their heating for optimum comfort and efficiency and monitor their energy consumption via cloud-based services.
[...]
Read more...