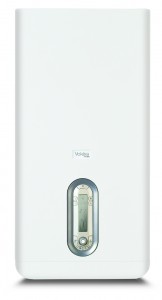 Vokèra has announced the launch of the new Linea One, a SEDBUK A rated combi boiler, with high output of 38kW and excellent domestic hot water performance of 15.6 litres per minute.
Linea One is our flagship combi boiler, boasting an array of exceptional features, benefits and efficiency for maximum end user comfort as well as offering a 5 year parts and labour guarantee as standard for total peace of mind.
The Linea One has one of the lowest NOx emissions in its class, with just 29mg/kWh and has an outside weather sensor included in the box, enabling it to be up to 93% efficient*
Alister Maclachlan, technical director, for Vokèra, said:  "We're really excited about the new Linea One, as we believe it offers customers a high quality, high performance, modern boiler which features some of the latest technology in energy efficiency."
A snapshot of Linea One's functions:
Intelligent 'Pre Heat Memory' function
The Linea One incorporates an intelligent domestic hot water 'Pre Heat Memory' function that, when selected, adapts the appliance pre-heat function to match your typical daily hot water usage pattern. Over a 1-week period, the boiler monitors at what times and how much hot water your household uses, thereafter the pre-heat function of the boiler is automatically adapted to suit your lifestyle, ensuring that there is always an immediate supply of hot water when you need it.
'Comfort' function
The 'Comfort' function allows you to set a fixed outlet temperature for DHW within the range 35°C to 45°C (factory set at 40°C).  By choosing to operate this function you ensure that your DHW is of a comfortable and safe temperature which is especially useful if there are young children or elderly relatives in the home.
To find out more email [email protected]
*Based on SAP 2009