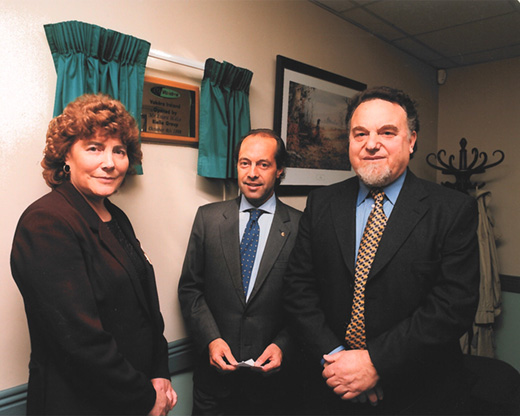 CALLAN, Ireland, 12 October 2018 Vokèra Ireland, is celebrating 20 successful years of supplying commercial and domestic boilers across Ireland. Today, Vokèra by Riello is one of the country's best-known brands with more than 100,000 boilers installed throughout Ireland. Vokèra is a subsidiary of Riello Group, which is a part of UTC Climate, Controls & Security, a unit of United Technologies Corp. (NYSE: UTX).
Marking this milestone, Managing Director of Vokèra Ireland, Neil Gaffney, says the company is unique in the Irish market because it is the only boiler manufacturer subsidiary that offers the full range of functions – from installation training to call-centre support and after-sales service. "We work hard to ensure that we deliver the best quality products supported by dedicated, knowledgeable staff." he says.
Originally started when the company's Irish sales distributor convinced them to set up a dedicated Ireland division in 1988, the business became an official part of Vokèra in 1998. At that time it had just three employees who were based at a facility in Callan, Co. Kilkenny. The Callan facility now handles all installation, customer service and ongoing service requirements with a staff of 16 who are dedicated to helping installers, specifiers and end-customers. Vokèra Ireland employs six full-time engineers: one in Belfast and five in Eire who cover the whole of the island – the only company in the country that has this capability.
The business has certainly had to pull through some tough times during the past 20 years. In 2010, Ireland experienced a severe recession. "The recession was a huge challenge for us," says Gaffney. "We had ridden the economic boom in Ireland, growing the business significantly on the back of all the new residential developments. When the recession hit, that work disappeared almost overnight and we needed to replace it quickly. We started to concentrate on retro-fitting and boiler replacement, and managed to grow this area of business."
As for the next few years, Gaffney is optimistic about the company's future. "The Irish economy is still buoyant," he says. "The country needs to build at least 50,000 new homes in the next three years, and we would expect to be able to provide a significant percentage of the heating requirements for those homes." Vokèra Ireland also expects to grow the commercial heating side of the business as it rolls out a new range of boilers, which are ideal for hospitals, schools, care homes and other businesses. "And we're excited about renewables too," continues Gaffney. "We have launched a heat pump and solar thermal products, which help to generate cleaner energy – and we believe this is going to be an exciting market for the future."
Plans to celebrate the 20th anniversary are well under way, with a grand event in December. The opening of the current Vokèra Ireland site in 1998 featured a live band, Irish dancers and a wide range of the company's customers at the time, and Vokèra Ireland expects to have just as much fun two decades on.