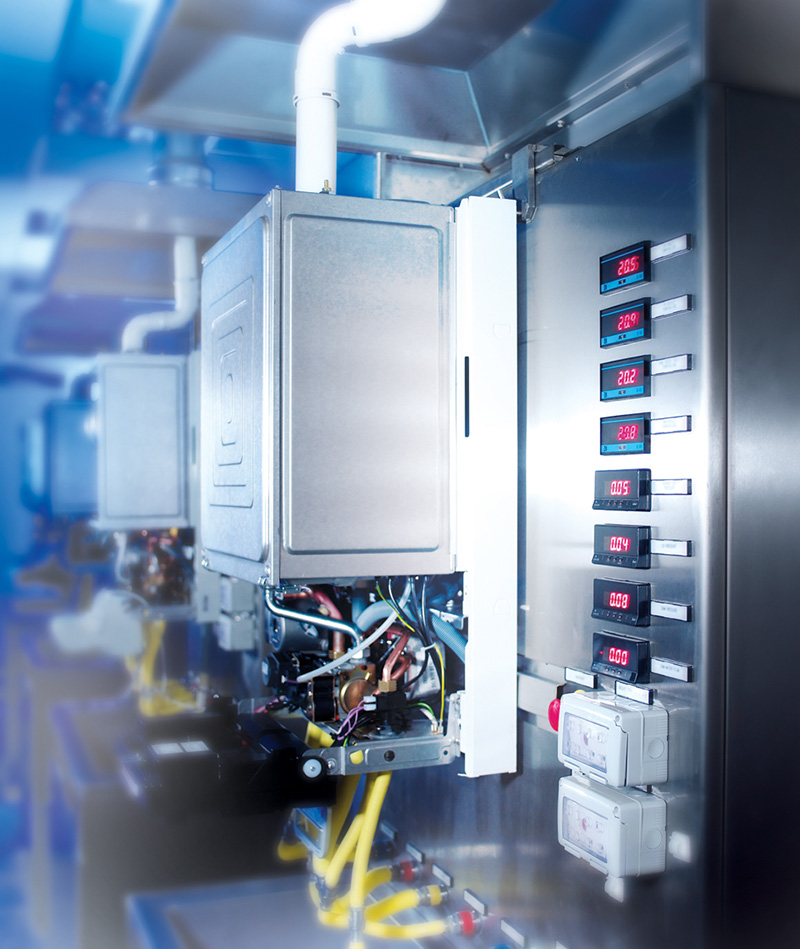 A skills shortage in the heating and plumbing sector continues to be a cause for concern, so what's the solution? Margaret Jovanovski, training coordinator at Vokèra by Riello explains how industry manufacturers can help fill the skills gap by offering professional training for the installers of today and tomorrow.
Keeping up to date
The heating sector is constantly evolving as it strives to find more energy efficient ways to provide heating and hot water in our homes. Keeping up to date with advancing technologies, new working practices and changing legislation can be a challenge for a busy Gas Safe Registered/RGII engineer, whether they are a sole trader or part of a local authority team or contracting company. That's why at Vokèra we believe technical training should always focus on making an installer's life easier and give them the knowledge and skills they need to enable simple and hassle free repairs and installs. Courses that cover new installation procedures and best practice, for example, can deliver real value and business benefits by helping save time and money on site.
Learning about new industry regulations is another important aspect of training because installers need to understand how any changes in legislation affect the way they work. Also, since the new Boiler Plus initiative came into force in England in April 2018, even greater responsibility has been placed on the installer's shoulders, so education is key to ensure compliance.
Training partnerships
In addition to training for individual installers, heating appliance manufacturers can also assist colleges, councils and housing associations with high quality training for their students and staff. Vokèra has established more than a dozen partnerships with education facilities that offer plumbing and heating courses, providing them with equipment and other resources for their training departments. And this support has now been extended to allow other colleges to send their students for courses at our well-equipped training centres. To further develop these relationships, we visit councils and colleges on a regular basis to discuss their needs and, in the case of colleges, to find out how we can contribute to creating the next generation of highly skilled heating engineers.
Project support
As an example of these partnerships in action, we recently donated one of our high efficiency evolve gas condensing combi boilers to a community project in Scotland. The boiler is being installed by East Ayrshire Council's heating and plumbing apprentices, enabling them to gain valuable hands-on experience under professional supervision. A longstanding partner, the Council has been installing Vokèra boilers in its housing stock for about 15 years. As well as contributing a brand new combi boiler for the project, Vokèra is providing the apprentices with commissioning support and training on site by one of its highly qualified technical team.
Finding the right course
As heating products and technology have advanced, training courses have become more wide-ranging and now need to cover the latest electronic controls, for example, and renewable energy solutions. With so much choice we believe it is important to ask installers a few key questions before recommending the most appropriate course, such as how long have you been in business; are you looking for something practical; or are you interested in learning about a specific sector or application. From our experience, given the continuing emphasis on energy efficiency, it's not surprising that courses focusing on solutions to maximise energy savings for their customers are particularly popular with installers.
Sharing knowledge
Of course, many heating installers now look to one of the many social media sites aimed at heating professionals for advice on a technical issue or maybe a compliance query. Apart from providing an opportunity to share knowledge with other installers, industry forums like Gas Chat on Facebook also provide an ideal platform for manufacturers like Vokèra to communicate with customers and answer their queries.
Few would argue that professional training is key to increasing skills and productivity and assuring the future for the UK heating industry and its workforce. We believe heating manufacturers have a vital part to play in helping to make training more accessible and relevant. Investing in courses for current and future installers will ensure they have the knowledge and experience they need to fit the latest products effectively and safely and to stay ahead of the game.