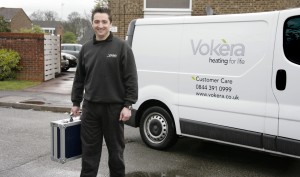 Vokèra, a leading heating manufacturer, has been highly commended by Domestic and General (D&G) customers for the second year running. D&G, the UK's leading warranty specialist, generates a quarterly report based on a survey questionnaire sent to its customers following each callout regarding customer service and satisfaction. For the fifth quarter running Vokèra has received outstanding results. The latest report has put Vokèra in second place in comparison not only with rival boiler brands but crucially leading white goods manufacturers, with an overall satisfaction rating of 97.4%.
In 2014 as part of its on-going commitment to customers, Vokèra changed its customer care service to be open seven days a week. The centre based at the Bradford office is now open Monday through to Sunday, providing an 'everyday' service, with a dedicated team available to answer post-sales enquiries. This commitment to customer service is reflected in the survey results as ease of contacting Vokèra's customer care team has risen by 4.5%, from 96.2% to 98.1% over the last year.
Another area Vokèra scored highly was for the time it took the engineer to arrive, whether they arrived on time and if not, whether they contacted the homeowner to say they were running late. Vokèra has consecutively scored highly and ended the year with a figure of 98.3%.
As well as its service, Vokèra's engineers have also scored highly with 100% of customers satisfied with their appearance, 91.2% were delighted with their politeness, 100% were satisfied with the efficiency and overall 99.7% were satisfied with the Vokèra engineer.
The work completed by the Vokèra engineer was also commended, with only 1.9% of respondents saying that the boiler had further problems after being repaired. This reflects not only on the quality of Vokèra's installers but also the quality of its products.
Vokèra is one of the leading UK boiler brands, renowned for its comprehensive range of energy efficient appliances, including the Unica i, Vision and Mynute i, supported by a reputation for excellence in customer service, support and training. The company's product portfolio also includes a full range of ancillaries and control devices to optimise ease of installation and efficiency still further. Vokèra also supplies the market with a commercial boiler range, unvented cylinders, gas fired water heaters, solar thermal collectors and air source heat pumps. Established over 30 years ago, Vokèra has bases across the UK and Ireland to support each installation and every installer.