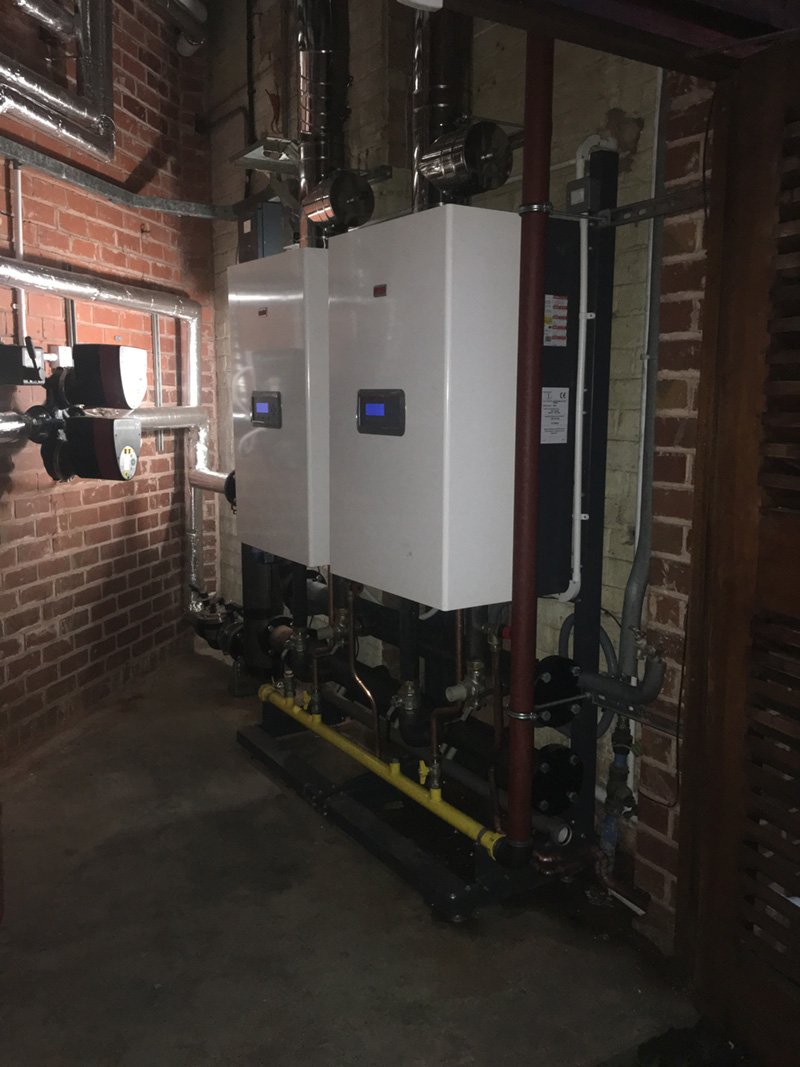 Compact, high power Condexa Pro condensing boilers from Vokèra by Riello ticked all the right boxes when it came to converting a former council building in Smethwick into modern private offices. Installed on a cascade rig, two 90kW Condexa Pro fully modulating gas boilers replaced the building's inefficient and outdated boilers and significantly reduced costs by eliminating the need for a Building Management System (BMS). Vokèra, through its parent company Riello Group, is a part of Carrier, a leading global provider of innovative heating, ventilating and air conditioning (HVAC), refrigeration, fire, security and building automation technologies.
The modularity of the Condexa Pro system meant output could be accurately sized to suit the new heating demands of the building with maximum efficiency, and in a compact footprint to fit the small, triangular-shaped plant room. Thanks to the boiler's advanced, built-in features, there was no need to install BMS controls, which saved project time and cost, as the Condexa Pro boiler controls are able to manage the day-to-day operation of the heating system.
Vokèra worked with heating, plumbing and gas specialists, Bog Standard Plumbing, to specify and supply a Condexa Pro system to meet the project's bespoke requirements, including the confined space in the unusually shaped plant room. This was Bog Standard Plumbing's first Vokèra boiler installation.
Ronnie McGrory, Managing Director of Bog Standard Plumbing, said, "Because Vokèra is part of Riello, whose burners we know and trust, we were confident that the Condexa Pro boilers would be of the same robust quality and reliability – and they are. Vokèra's technical team provided excellent support throughout, from sizing the boilers to advice on wiring sequences, and the ordering process and delivery all went very smoothly. As well as combining high efficiency and control, the small footprint of the two 90kW Condexa Pro boilers in cascade configuration fits the plant room perfectly.
"Given the success of this first installation, we'll definitely be recommending Condexa Pro again. In fact, we've already got a quote for another contract."
Introduced in the UK in 2018, Condexa Pro is the latest addition to Vokèra by Riello's high power condensing wall-hung boiler range. This A-rated boiler combines latest generation electronic control with modularity and compact dimensions for installation flexibility in a variety of applications, including residential and office buildings, hospitals, schools and manufacturing facilities. From standalone boilers to multiple cascades and with a wide range of optional accessories, Condexa Pro offers seemingly endless configurations that can help specifiers and installers overcome any complex or challenging installation they may encounter.