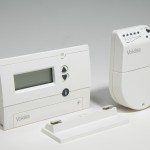 Increases in domestic gas prices mean we will all be feeling the pinch on household budgets more than ever this winter.  Alister Maclachlan, product director at Vokèra, looks at how the latest advanced controls can significantly improve the efficiency of a heating system and reduce utility bills – without requiring too much of a financial outlay.
Following the announcement that energy prices are set to rise even further, many homeowners will be looking to reduce their energy usage to combat the price hikes.  The Government's RHI (Renewable Heat Incentive) and Green Deal schemes are designed to help homeowners afford energy saving measures – but aren't going to provide immediate assistance.
Though the RHI Renewable Heat Premium Payments are now available, providing a one-off payment if a homeowner has a renewable technology installed (depending on the technology and if certain criteria is met), the ongoing tariffs will not be available until late 2012. 
Similarly, the Green Deal will not be up and running until the end of 2012 at the earliest.  This new scheme will see major energy suppliers offering loans to homeowners who want to install energy efficient measures and technologies. 
So, with help from the RHI and Green Deal being some way off, how can installers help homeowners to find a cost-effective way to be more efficient?  There is clearly a need for an immediate, affordable solution – and this is where the latest intelligent heating and hot water controls really come into their own. 
Thermostats and controls have been on the market for many years and are an essential part of a modern central heating system; however, more recently manufacturers have invested heavily in further advancing boiler control technology to improve the efficiency of the boiler.  In fact, the latest generation of controls offer homeowners even greater command over their heating and fuel usage, and when teamed with a high efficiency boiler, can dramatically reduce fuel bills for the end user.
The very latest innovation to hit the market is built-in OpenTherm technology.  It's estimated that up to 10 per cent of the energy consumed for space heating can be saved by using this type of control with an appropriate HE boiler.  Fuel efficiency can be maximised by specifying these controls alongside boilers with higher modulation ratios, for example ratios of 5:1 and higher. For customers looking to reduce their fuel consumption immediately, OpenTherm could be an ideal solution, and is suitable for retrofit as well as new installations (depending on the boilers compatibility with OpenTherm protocol).
The benefit of OpenTherm technology lies in its ability to regulate the temperature of the room more effectively than a standard room thermostat.  When a standard ON/OFF room temperature/programmable room thermostat is used, the boiler will usually provide a flow temperature that's much higher than required for the room to reach the temperature set by the thermostat.  This causes the boiler to 'overshoot', and as a result the home will actually become too hot.  To compensate, the boiler switches off, and the temperature drops again.  When the temperature goes below the set-point (the nature of traditional thermostatic controls means a boiler will 'undershoot'), the boiler turns back on – and so this pattern continues.  This frequent ON/OFF cycling results in an inefficient use of fuel and unnecessary wear and tear on boiler parts. 
OpenTherm protocol controls are also available as wireless (RF) units, making them particularly suitable for retrofit applications.  Vokèra is one of the few manufacturers to offer this type of control in a wireless format.  Wireless OpenTherm controls provide a neat installation, something that is particularly ideal for house-proud customers who are concerned about the aesthetics of their home, and are easy to fit.  With a 30 metre wireless transmitter, both new and retrofit installations are quick, simple and tidy.
Another recent development in controls has been weather compensation technology, which regulates the output of the boiler in line with the outside temperature, and is particularly effective when unseasonal weather occurs.  Using weather compensation will almost always ensure that the boiler is fully condensing and this maximises fuel efficiency.  In fact, under the proposed SAP 2009, the installation of a weather compensation control can increase the efficiency of a condensing boiler by up to 3%, enabling efficiencies in excess of 93 per cent.  A weather compensation control not only saves energy, it can also ensure a more comfortable environment inside the home too.
While a selection of boilers are being supplied with weather compensation controls included, a key benefit is that existing boilers can be upgraded to include this technology.  If fitting an external weather sensor, it is advisable to fit the controls to a north or north-west facing wall to achieve optimum results. 
Both OpenTherm and weather compensation controls offer an affordable, cost-effective way to improve energy efficiency – and could provide a useful stop-gap until other measures, such as a more efficient boiler or a renewable technology, can be fitted. 
When specifying controls it's worthwhile looking for any additional features that will add to the usability of the control, ensuring the homeowner can make the most of their heating system, manage their energy efficiently and maximise comfort.  For example, the OpenTherm protocol RF control from Vokèra includes a handy holiday function.  This allows the end-user to set the control for the duration of the holiday, and the temperature at which the boiler should operate at during this period and for when they return.
If a control boasts an optimisation function, this means it will start the boiler working before the programmed 'ON' time, so the desired temperature is reached for when the homeowner wants it.  Some controls also give homeowners access to useful information too, such as the current and target room temperatures. 
When specifying controls with advanced user functions, it is important to ensure the homeowner is properly briefed when the unit is installed.  This will ensure the customer knows how to operate the controls and that the maximum energy savings can be achieved.   
With fuel prices rising dramatically and the effects of the economic downturn still being felt, there has never been a more important time to ensure a home's central heating system runs as effectively and efficiently as possible.  Installers can provide valuable information to homeowners about the advantages of intelligent controls to help them reduce their energy usage now, so they are better prepared to manage the cost of their utility bills in the future.
Our website has a wealth of information on boilers, controls and renewables, to help you save on your fuel bills