Have you seen our new literature yet? Following a revamp of our branding we have developed a new Domestic Gas Boilers brochure, refreshed the literature and updated our datasheets. Everything can be downloaded from our website and has been designed to make product specification easier for installers and provide homeowners with more information.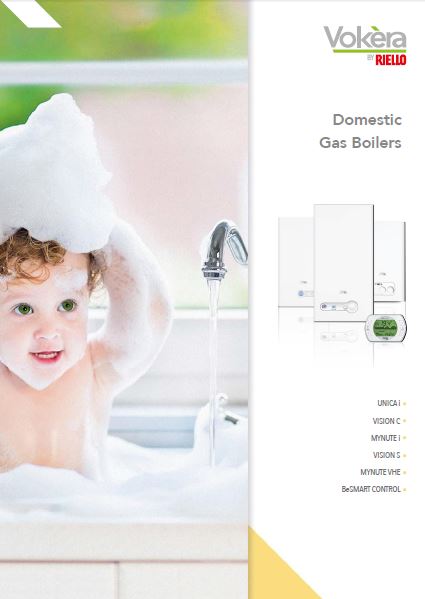 Neil Mattock, Marketing Director at Vokèra, commented: "We want to make the lives of installers simple and ensure they can easily help their customers. This is why we decided to modify and evolve our product literature to ensure it was accessible to both installers as well as the end user. Our aim is to present key information in a concise way without having to delve into lengthy product specifics within the new gas boiler brochure but also provide informative and technical information in our datasheets."
The refreshed literature includes a new Domestic Gas Boilers brochure, which can be used by both installers as well as given to customers. Providing information on the Vokèra brand as well as the various product solutions, the brochure makes use of imagery, diagrams, graphs and icons to ensure the document is user friendly.
Icons displaying key information are replicated across the whole product range enabling installers and customers to instantly identify the crucial specifications of each particular product.
Existing literature has also been updated to fit our new branding including a dedicated brochure on BeSMART, one of the first internet enabled heating control systems, specifically engineered to complement the Vokèra boiler range whilst maintaining compatibility with the majority of residential boilers.
The BeSMART brochure offers information on the benefits of the technology and specifications of the product in a simple way and without heavy use of text. It again integrates icons, imagery and diagrams to make the content accessible to varying audiences.
There is a handy Pocket Product Guide, which is a more in depth specification and description of the Vokèra products as well as support and training opportunities, aimed more toward installers. This includes the icons, graphs and diagrams as standard across the new literature but also offers QR codes which installers can scan to lead them to our YouTube channel where short videos are available on given topics.
Our hard working team have succeeded in creating new literature that is perfectly in line with our exciting new branding, visually appealing, consistent, current and easy to understand. All the new literature can be downloaded here https://www.vokera.co.uk/trade-professionals/manuals-literature/